Digital Finance
FinTech, InsureTech
& Banking Innovation Forum

29 September, Sofia 2017
Sopharma Business Towers
Building B, Iztok Hall
Postbank (Eurobank Bulgaria AD), is the fifth biggest bank in Bulgaria in terms of assets, having a broad branch network across the country and a considerable client base of individuals, companies and institutions.
Postbank has over 25-years' presence as one of the leaders in Bulgaria's banking sector. The bank is a decisive factor in innovation, in shaping the country's banking trends in recent years and award-winning for its innovation. Postbank occupies a strategic position in retail and wholesale banking in Bulgaria. It is one of the market leaders in credit and debit cards, mortgage and consumer loans, saving products, as well as regarding corporate tailored products - from those for small businesses to large international companies operating in the country. The bank has built one of the most developed branch networks and modern alternative banking channels.
Euroins Insurance Plc, member of Euroins Insurance Group, is the 6th largest general insurance company in Bulgaria. The company has 20-years' presence as one of the leaders in Bulgaria's insurance market. Euroins is the first insurance company in Bulgaria obtained a certificate of compatibility with Unified Information System for assessment, management and risk control for electronic generation of MTPL insurance policies. The company is the only one on the Bulgarian insurance market that offers cyber insurance. The first cyber insurance policy was issued in 2014.
In 2014 EUROINS was nominated as "The most dynamic developing insurance company" at the traditional awards "Best Insurer of the Year" organized by the VUZF University, Association of Bulgarian Insurers, Foundation "Prof. Dr. Veleslav Gavriiski "and the Bulgarian Association of Supplementary Pension Security.
The European Banking Federation is the voice of the European banking sector, uniting 32 national banking associations in Europe that together represent some 4,500 banks - large and small, wholesale and retail, local and international - employing about 2.1 million people. EBF members represent banks that make available loans to the European economy in excess of €20 trillion and that securely handle more than 300 million payment transactions per day. Launched in 1960, the EBF is committed to creating a single market for financial services in the European Union and to supporting policies that foster economic growth.
The event is designed to meet the needs of senior decision-makers and professionals working in the following areas:

Banking

Insurance

Institutional Investment

Financial Regulation

Economic Research or Policy FinTech

Nonbanking Financial Institutions

Pension Companies

Experts
Topics will include the power of original thinking, change management, digital banking, social media, bank accelerator programmes and innovation labs, emerging global banking threats, cyber security and new product and service development.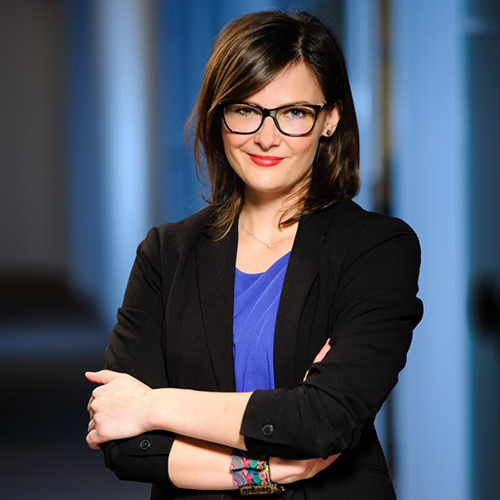 NOÉMIE PAPP
Head of Digital & Retail
European Banking Federation

Since 2012 Noémie Papp has been senior adviser at the European Banking Federation in charge of digital and retail . Noémie is leading the work on digital banking and programme leader on several digital issues (cloud, e-identification, data etc.).
Prior to joining the EBF, Noémie worked for almost two years in a worldwide public relations and public affairs consultancy in Brussels.
#NEXT DIFI 2017 is a one-day conference covering the convergence of technology and financial services rapidly changing how the world borrows, buys, and invests.